There is a huge chunk of my Day In Life diary series of the 80s that I decline to mention or would I even like to talk about. You see, I've hang on to all my precious old diaries over the years - complete from November 14, 1985 to 1989 - I still saved them all, had them kept by my friends for safekeeping just away from prying eyes (when I'm out of town or out of the country) - I refused to let go of these diaries from the 80's (thanks much to my understanding hubby who is ok that I still keep them)
So here I am reinforcing that these diaries are so valuable to me.Yet there is one diary I've written in the last quarter of 1986 that has so much torn pages - with just a few pages left saying something about the emotional turmoil from a paralyzing breakup I had then. And because some of the pages were torn, I could not refer to them for cues. But I'll try to write what I remember from them.
<sorry, photo copied off his facebook without his permission. I pixelated it so no one would recognize him>
Note: when I started this blog, I wanted to skip writing or even mentioning this. Unless of course if I'll be forced to! I got to have my head checked why I'm writing this now, hahahaha!! And I would have made the title "The 80s Boyfriend from hell .. hahaha now I completely changed my mind, Major Heartbreak isn't so bad after all.
(listening to some crummy songs from that era to un-inspire me : "
Friends and Lovers
", "
Separate Lives
" "
Alone
" "
True Blue
" "
All I Need Is A Miracle
"
even Stacey Q's "
Two Of Hearts
" reminds me of that period in my life)
At first, I didn't really like this guy, which meant I didn't have a crush on him so to me he was like 'blah' anemic. But he's the typical ladies' man and I guess a campus crush in their school. Only met him once during the summer of '86 (when I roamed aimlessly with Ate Baybee in the streets of Dagupan because I ditched summer class in May) Ate Baybee was working at a licensed gun store as a secretary in their building. Ate Baybee introduced us together, saying he was the son of the building owner. Major Heartbreak simply smiled and waved at me hello and vanished. End of story and forgotten.
School days started. I transferred to STHS, a private school at our hometown. Survived those first few months in school despite being bullied and still having attacks of absenteeism. I just got by. Lanie and I were still the best of friends. Ate Baybee I still see often.
Then October came by, to my surprise, Ate Baybee let me know that Major Heartbreak wanted to court me. (yeah, I was also surprised... sounded illogical as he hasn't seen me since the last time... me- the gullible me, didn't question why or how) I just went along with Ate Baybee, with her playing the matchmaker :) But all I heard were "rumors" from Ate Baybee and Lanie that Major Heartbreak wanted to see me. Things just happened so fast that month, and suddenly there he was visiting me at Lanie's house! Ahh, still had no feelings for the dude then. Ate Baybee kept building him up for me - but I believed I was still in another steady relationship - I was still unimpressed.
Then the one thing that no guy has ever done... oh no... he went to visit me at my house, thinking it was completely okay... imagine my relatives and my mom going berserk after they "interviewed" him.. asking me where I met this guy and giving me bad comments that it was so unlady-like to meet boys in the street.
Haha, in my mind, I defended him... he's not so bad, he's from a reputable Catholic school, his mother is a doctor, he drives a car, he is what I considered a gentleman and of course, good-looking kind of a cross between Harrison Ford and Edu Manzano - but not my kind of crush.
There were some minute details that I felt weird about him during those first few dates... he was telling me that we set our anniversary to July 26 (but I didn't exist then, did I?).. he was telling me his plans for our children when we get married, how many children we would have and where they would go to school
(warning bells!)
... he often mentioned his past girlfriends as being this, being that- I still wonder up to this day what he was hinting at because all along I was comfortable being simply me.
Later on, I found more good traits in him- like being thoughtful sending me letters/telegram, like being concerned about how I often slouched, like being unbearably sweet to me. Come December, I was getting to fall for him completely because of his kindness and caring. Yes, those times were great for us then even when we used to fight a lot. I was the quiet type not arguing back, so he would be the one with all those angry words why I couldn't make our relationship known to all.
I was beginning to be melodramatic and clingy when 1987 started. I was so happy to please him, made all the effort to see him, as promised, making up excuses at home why I was going home late (yes, 7pm is already so late for my mom!) I accepted the scoldings and the occasional slaps in the face for that, and thinking it was worth it. But he was slowly becoming distant and I didn't know why.
Then one afternoon, he kind of hinted that he found a student's ID. He showed it to me but covered the girl's first name. Asked me if the girl was pretty....well, what could I say .."Yes, she is kind of. But 1st year, still young." but somehow in me I knew this may be the clue to his lack of concern for me. So I played along, pretending nothing's wrong. But then when Valentine's Day came and I didn't get any flowers or anything from him, I began to wonder. The girl from that lost ID was his ex-girlfriend and they were getting back together.
As a demo, his sister Michelle did something clever one day, told me to stay in her room while she asks Major Heartbreak what time he's going to visit his new girlfriend. So I listened from the other room, hoping he wouldn't say anything... but he did, and I heard "Around 5 pm, are you going with me?"... ouchie. Minutes later I confronted him but he had this look on his face that he wouldn't admit anything. I cried so much over this but he felt nothing for me anymore.
So I called 1987 a bad bad year because after all that miniscule effort, I still lost him. And the rage I had, I wanted to go and see him at home to rearrange their furniture!!
When this fiasco in my life happened, it took me a while to just hide and not go out, not socialize with anyone. I felt so betrayed. I don't know where my mind went that time, but I couldn't do anything drastic anymore, having lost all my brownie points. Come to think of it, this was a relationship I kept so secret because my folks knew and were watching out for me during weekends that I don't escape. Then I've been scolded so many many times over my relationship with him and my ditching classes. I went to all that trouble for nothing :(
Things I remember:
The signet ring he gave me with RC initials on it. He said he sold his bike to have it made. Back story though, that was the ring he gave his ex-girlfriend when they were steady. Yes, her name is so close to mine just spell it differently. Yes! She's the one he was nursing a heartbreak over with when he first courted me. Yes, Michelle showed her crumpled photos to me and Lanie during our first few visits before. Eureka! Panakip-butas lamang pala ako, Hajji Alejandro...huhuhu
So I remember her, Miss CS...yes, Michelle told me everything there was to know
Of course I would always remember his younger sister, Michelle, who was often with me when he wasn't around. Thank God for her talking sense into me during those moments of misery.
The brown Volkswagen with plate number ABP111 - yes I still know, I think I was the daughter of an undercover agent :D
Ziggy cartoon character ..not my kind again.. I preferred CareBears
The drama of being away from him because of Christmas vacation
Those pearl earrings his mom gave me a week before he broke up with me, which he referred to as a bad omen
The small talk whether Phoebe Cates was prettier than Brooke Shields, who is really a careful driver when driving in a city, how to make diy bomb from foil with firecrackers, and some other juvenile stuff we used to talk about.
His aunt's house in a nearby town where he used to take me when he was on an errand for his mom (up to this day, this house visits me in my dream)
"Glory Of Love" was one of the top charts. He said that Karate Kid II was filmed in Hawaii. I didn't believe him and argued about that. Years later I always thought what a creep he was for making me so gullible. But hey, looking it up on Wikipedia now, yes indeed it was filmed in Hawaii! .. anyway, I held on to you Major Heartbreak when you said "I will always love you, I would never leave you alone" hahaha
He said about me of having a mole on my left shoulder would mean that I would bear a cross in this lifetime. Baloney, isn't it? Anyway, those were his lines a week before he broke up with me. But then there it goes, whenever I go through tough times I remember what he said. Monsters under the bed, just because you believe them. Oh yeah, have to add this one... according to what I've been told, ladies with moles on their shoulder would have lots of suitors. (habulin in pinoy lingo) doesn't matter, I still don't believe in superstitions
Now nothing to do with what I remember... but whenever I would meet a guy whose name begins with "R" I would say he's not good for me.
So there, when you get so heartbroken, you still remember a lot of things that you would rather delete from memory through hypnosis or ECT, but they are there..huhu
I've had the time to get up again when I attended summer class to make up for my back subject in Algebra. Summer was full of hope that I would recover. These were the times I listened to upbeat songs to cheer me up. The Final Countdown, Eye Of The Tiger, The Moment of Truth, Flashdance
Yes, even the songs from
The Cascades album
did that for me. Read Dale Carnegie's
"How To Stop Worrying And Start Living"
And I made myself believe that there will be someone out there who loved me still - haha, why do I have to add this bit? because it happened, kind of the law of attraction thing, when I believed there are nice guys still there. I got that inspiration from Five Star's "Rain Or Shine" :)
Those were the 80's and this relationship with him was the reason why I became so paranoid with other guys that I suspected of lying to me. Meaning, I would always have that ESP or female intuition that something isn't right. Aww, I feel bad now... like I've been punched in my solar plexus! :) :) :)
to give you an idea how dreadfully I looked like during this year 1986 December.. am that girl (far left)
with white 3/4-sleeved polka dots, red pants and pink high-cut loafers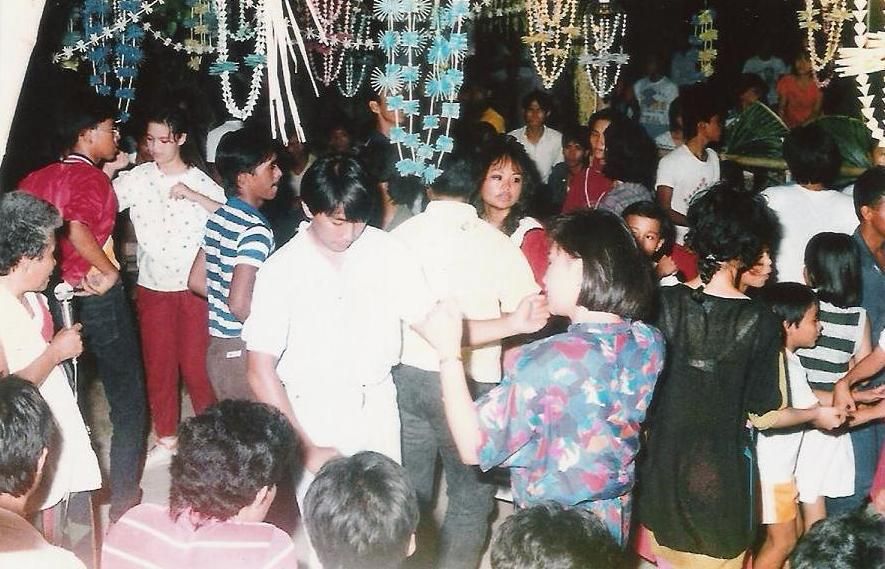 #howdoyougetoveramajorheartbreak #howtodealwithamajorheartbreak #majorheartbreakquotes #w
ritingimaginarysuicidenotes
#reopenoldwounds
#f
etalpositionmisery
To my 15-year-old self, don't dwell on the rejection, it's temporary. The way he treats you does not define who you are, but maybe it says a little bit how he views himself. Allow yourself to feel the pain, don't keep covering it up by pretending to be oh-so-silly. There is a time to be quiet and simply cry it out; you will learn to make better choices in your relationships in the future...not all guys are like him! Don't let this prevent you from trusting someone again. And when you find this love of your life, make him feel always in love as if he won a great grand prize by being with you.
Now, for the best heartbreak songs of the 80s...
Hard to Say I'm Sorry by Chicago
Hello by Lionel Richie
Missing You by John Waite
All At Once by Whitney Houston
Almost Over You by Sheena Easton
Look Away by Chicago
Against All Odds by Phil Collins
Separate Ways by Journey
Tell Me by Joey Albert
and get yourself a good cry with Endless Love